TRU PEST
CONTROL
COMMERCIAL AND RESIDENTIAL PEST SOLUTIONS
GOT BUGS?
CALL TRU PEST CONTROL!
Who We Are
Tru Pest Control provides quality pest control solutions to Windsor and Essex County
Insect and rodent infestations are a big problem in Windsor and Essex County. Infestations can be harmful to your health and can cause thousands of dollars in property damage if not dealt with properly. If you think you may have an infestation problem, call the professionals immediately.
TRU PEST CONTROL is an award-winning, experienced, professional pest control solutions company. We understand pest biology and use creative solutions based on more than 30 years of experience, and have thousands of satisfied customers.
We are committed to providing our customers personable, confidential service with fast and effective results. We offer a discrete service in both marked or unmarked vehicles. We offer economical pricing and affordable, preventative solutions.
What We Manage
Ants
Bed Bugs
Birds
Bird Mites
Box Elder Bugs
Carpenter Bees
Carpet Beetles
Centipedes
Clover Mites
Crickets
Earwigs
Fleas
Hornets
Mice
Millipedes
Pantry Beetles
Pantry Moths
Pill Bugs
Powder Post Beetles
Roaches
Silverfish
Wasps
Weevils
Yellow Jackets
If you think you have an insect or rodent infestation problem, call us today.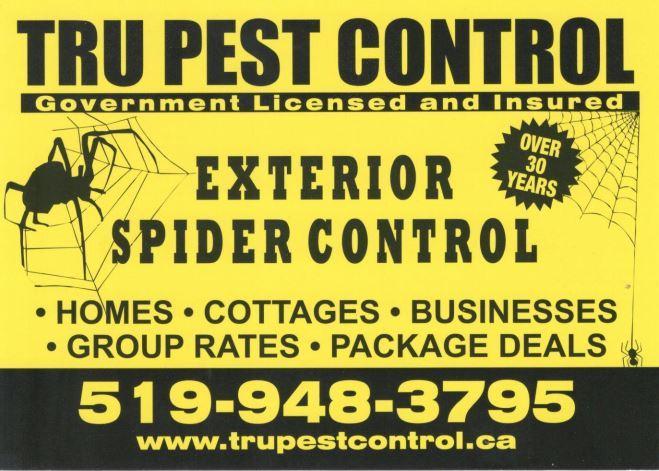 Spider Spraying
We offer a spider spraying service to ensure that you are fully protected from spiders both inside and outside your home.
Contact us to find out about our spider spraying packages.
We also offer group rates for neighbours who would like to use our spider spraying service.